PORTO CARRAS GRAND RESORT – 5*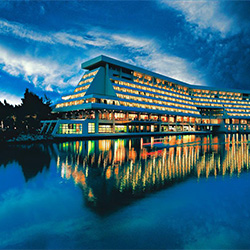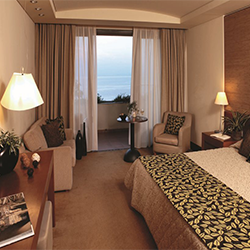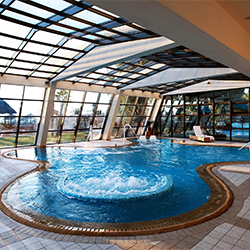 GENERAL INFORMATION
As you walk among Porto Carras Grand Ressort's five star hotels, first private casino, wellness & spa centers, golf course, marina and vineyard, you can sense the powerful vibe of nature's beauty mixed with Porto Carras historic legacy that still continues to grow.
ACCOMMODATION
On a beautiful scenery in the most outstanding resort in Greece, Porto Carras Grand Resort features two 5 star hotels, an impossing accommodation facility, an awarded landmark world class villa, a luxurious casino and two Thalassotherapy & spa centers.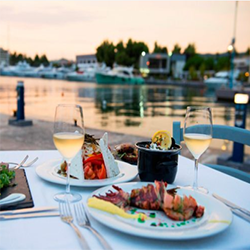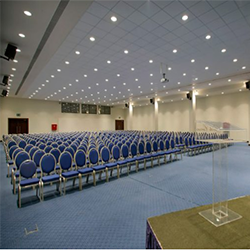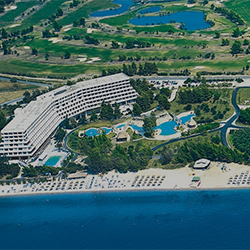 GASTRONOMY
With 14 restaurants, 4 bars and lounges as well as 3 pool bars, Porto Carras Grand Resort ensures an ultimate dining experience. A wealth of fresh, organically grown ingredients along with a devotion to authentic gourmet cuisine define the culinary experience at Porto Carras. Guests can choose from the stunning variety of more than 10 exclusive venues that take dining in Halkidiki, Greece to new heights. Our award-winning chefs serve a range of ethnic, continental and Greek cuisine with influences from the Mediterranean diet, lush flavors from the Sithonia countryside and finest quality local ingredients such as the renowned Greek olive oil. The culinary offering is complemented by dishes based on the Mediterranean diet, served across many of the restaurants. Age-old recipes, treasured for their health benefits and nutritional value vie for diners' attention with contemporary culinary explorations. Private dinners or romantic dinners at a multi-awarded luxury resort, against a backdrop of spectacular vistas or on secluded beaches, completely immerse the senses in the spirit of Halkidiki.
CONFERENCE EVENTS
Impressive conference halls, excellent food and outstanding service
A successful conference is much more than just a "conference", it is an experience. The Porto Carras meeting experience starts at the exceptional conference center facilities. Offering a wide variety of well-designed, impressive and exclusive venues for corporate meetings and events, Porto Carras Grand Resort in Halkidiki, in the unspoiled northern part of Greece, makes sure that everything you need for a successful event is here and working perfectly.